7 min read
Mortgage Broker vs. Bank: Which Is Best?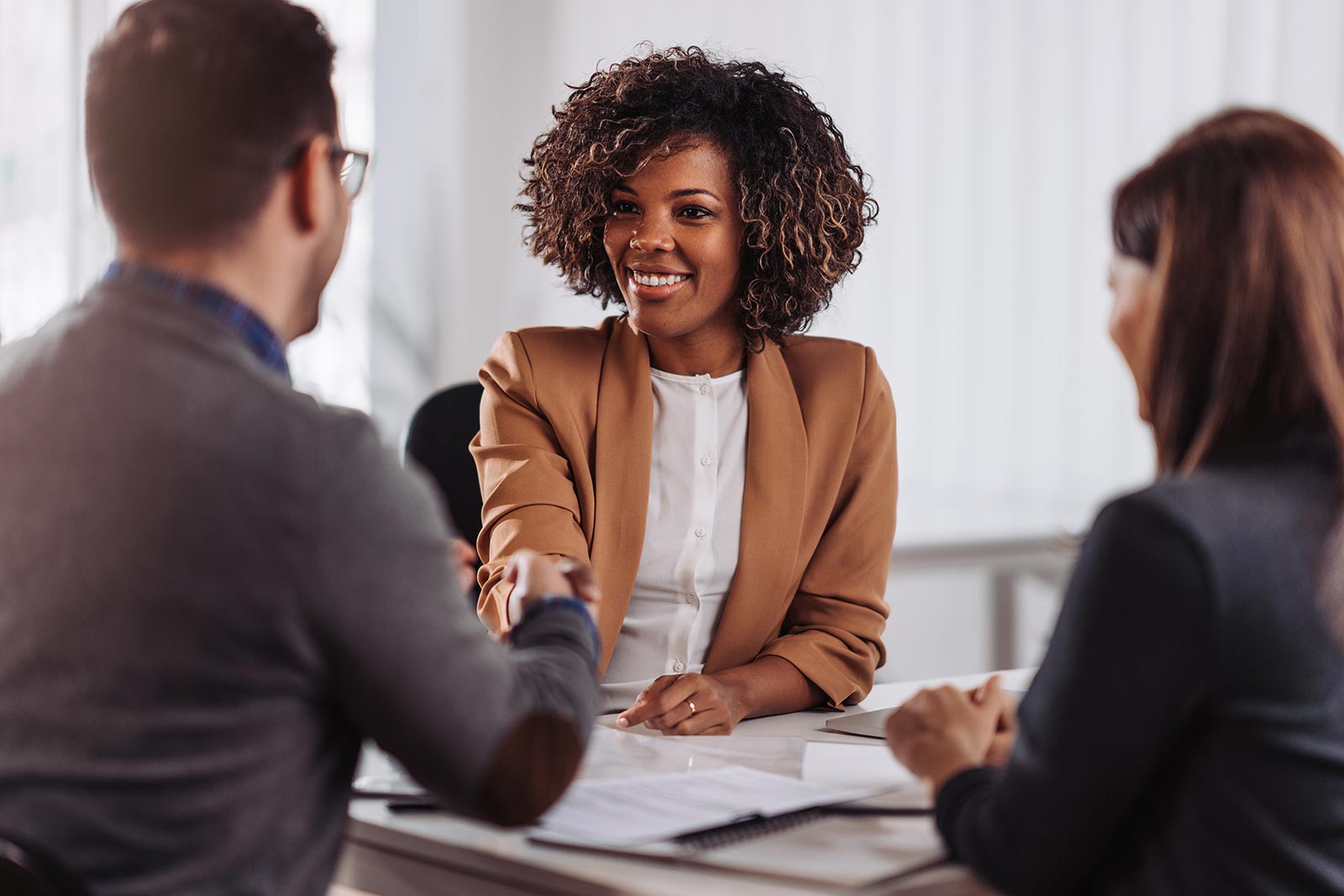 The first steps to securing a mortgage are often the most difficult. Many people don't even know where to start. If you fall into this category, you're in the right place! Today, we will discuss the pros and cons of mortgage brokers and big banks to help you find the right option for your unique financial situation.
How Do Mortgage Brokers Work?
Mortgage brokers are individuals that work with different lenders to find you the best mortgage loan deal. Mortgage brokers work with various lenders, including banks, credit unions, and private mortgage companies, for a wide selection of different products and programs. This can work to your advantage if you're looking for a specific type of mortgage that may be hard to find on your own.
Specifically, working with a mortgage broker is especially beneficial if you have a lower credit score, are self-employed, or deal with any other exceptional circumstances. Mortgage brokers can then take your unique circumstances and work to find you the best possible loan option.
Finally, mortgage brokers can help you through the often confusing and overwhelming process of financing a property. There are so many working parts and technical terms involved that it's hard to keep up. Mortgage brokers are experts that can explain each step to you along the way and make sure that you're happy with the deal you're getting.
Pros and Cons of Choosing a Mortgage Broker
Working with a mortgage broker over a big bank may offer several distinct advantages, for instance:
Mortgage brokers can work with various lenders to find you the best loan options and interest rates.
Mortgage brokers are often able to find more personalized lending solutions for those in unique or unconventional circumstances.
Mortgage brokers are able to set their own rates on an individual basis, so they may be easier to negotiate with than big banks that set their standard rates at a corporate level.
Mortgage brokers are required to disclose their compensation on your closing statement so that the entire process is transparent and there are no surprises.
At the same time, working with a mortgage broker over a big bank also involves several drawbacks, for instance:
Mortgage brokers tend to cost more than a big bank since they often specialize in more complex loans for unconventional scenarios. However, it's important to note that this only applies if you have a complex loan scenario.
Mortgage brokers can take longer to close their loans since they are working as the middleman between the borrower and the actual lender. Additionally, brokers can charge an additional broker fee. This fee is a general fee charged for working with a mortgage broker. Again, this only applies if you have a complex loan scenario.
Mortgage brokers have less control over the underwriting process since they don't work for the lender.
How Do Bank Mortgages Work?
Bank mortgages, on the other hand, follow a completely different process. First, you approach the bank directly for an application and a meeting with a loan officer. The loan officer then goes over the different loan options available at that specific institution. As a result, you may not be offered the types of loans that you're looking for.
Instead, it's always a good idea to shop around with multiple different banks to find the right loan and terms. This is especially true when it comes to interest rates. One bank may offer you an interest rate of 3.5%, whereas the bank next door may offer you a lower interest rate of 3.0%. While 0.5% difference may not seem like a lot, this can quickly add up to thousands of dollars throughout the lifetime of your loan.
So while you may feel obligated to take out a mortgage loan with a bank that you already work with -- whether it's for your checking account or an auto loan -- you should still shop around. Sometimes an established relationship with a bank can end up getting you better terms or perks. Other times, it may make more sense for you to go elsewhere for your mortgage loan.
Pros and Cons of Choosing a Bank Mortgage
Choosing a bank mortgage is the automatic choice for many because this option provides a whole host of benefits, for instance:
Banks provide you more control over the application process as you are the one selecting your contenders and working with them directly to negotiate fees and interest rates.
Banks complete all of the loan processing in-house, and as a result, your loan officer will have more control over the underwriting process.
Banks offer the opportunity to establish a banking relationship and offer access to other products like an auto-loan or checking account.
On the other hand, there are also disadvantages of choosing a bank mortgage that you should know about before making your final decision, for instance:
Banks do not have to tell you what they are profiting off of your loan. As a result, you may end up paying more than you need to if you don't shop around for competitive rates.
Banks often offer a limited amount of products and programs -- and they only know about what they offer. As a result, banks may end up pushing loan products that aren't the best option for you.
Banks can be highly conservative in terms of the approval process. You often need a great credit score, regular income, and a favorable debt-to-income ratio to be approved.
Other Mortgage Alternatives to Mortgage Brokers and Big Banks to Consider
While mortgage brokers and big banks are popular options when it comes to securing a mortgage, there are other alternatives that you may want to consider before you sign on the dotted line, including:
Credit unions: Unlike big banks,

credit unions

are member-owned nonprofit institutions. Like big banks, credit unions offer their own set of loan products to choose from. For example, getting a mortgage loan from a credit union may result in fewer fees and lower interest rates in exchange for membership requirements.
Online lenders: Online lenders have taken full advantage of technology to offer lending services entirely online. Instead of putting on a suit and heading to your bank for a meeting with a loan officer, everything is done online, from the application to closing. While online lending is certainly convenient, it's less personal and can quickly become frustrating due to a lack of communication and clarity during the process.
Bridge loans: If you've found the perfect home but need financing ASAP to compete with cash buyers who can close quickly, you may want to consider a

bridge loan

. A bridge loan is a temporary financing option that effectively bridges the gap between closing and permanent financing. With terms around one year and interest rates from 6% to 10%, bridge loans from lenders like Vaster Capital can make you a competitive buyer in a hot real estate market.
Hard money loans: When buying a home, a hard money loan should be your last resort. This is because hard money loans come with extremely high-interest rates that may reach up to 15%. Hard money loans are ideal for short-term financing because interest accrual is minimal. For instance, hard money loans are often used to finance fix-and-flip products. However, if you're looking for a more long-term financing solution, you may want to look elsewhere.
How to Choose the Right Lending Option for You
With all these different lending options out there, it may seem impossible to find the right option for you in a timely and straightforward manner. Thankfully, we here at Vaster Capital are here to help make it quick and painless for you.
As you now know, working with a mortgage broker may be beneficial if you're looking for more unique or unconventional loan options based on your financial situation. If you have a low credit score or are self-employed, this option may be ideal for you.
If you have solid credit and meet many of the traditional lending requirements set forth by big banks, getting your mortgage from one of these institutions may make more sense. This is especially true if you can get a favorable rate and ideal loan product from your bank.
Conversely, you may want to consider alternative lending options if you feel like neither a big bank or a mortgage broker would work for you. For instance, if you're already a credit union member, it would make sense to get your mortgage through them. If you're tech-savvy and don't want to deal with any in-person nonsense, then it would make sense for you to go with an online lender.
Finally, you may want to consider a bridge loan or even a hard money loan if you want a more flexible and short-term loan option.
The Final Rundown
If you're still unsure which lending option is best for you, always feel free to reach out to the experts at Vaster Capital for professional and personalized guidance. We have helped finance projects big and small to help you secure the property of your dreams.
Sources:
Is It Better to Use a Mortgage Broker or Bank? | Experian
Everything You Need to Know About Alternative Mortgage Lenders | US News
Why You Should Consider Joining a Credit Union | Nerd Wallet