12 min read
Intelligence and Trends for South Florida Commercial Real Estate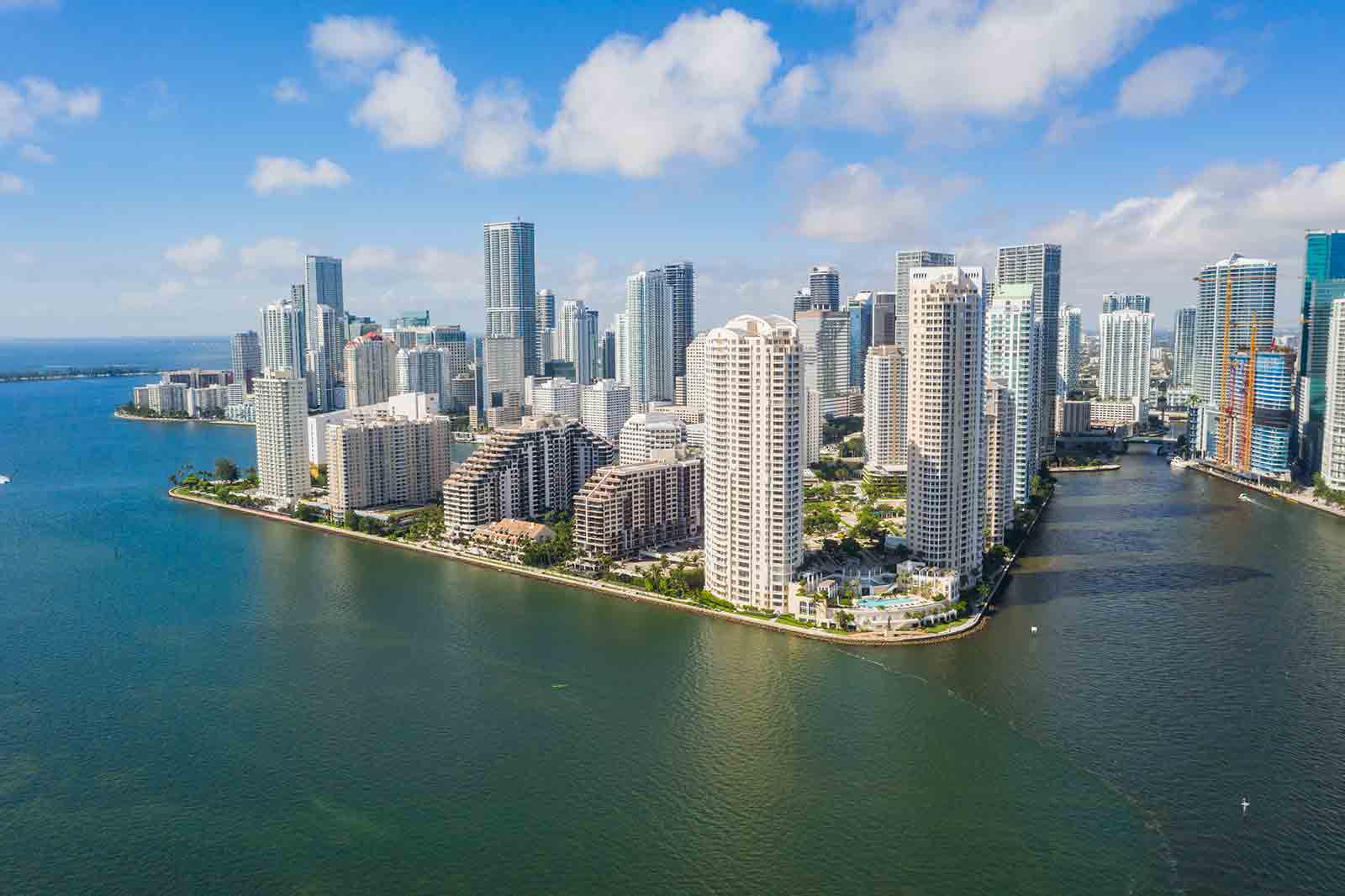 Staying on top of the latest intelligence and trends in a fast-paced and unpredictable South Florida commercial real estate market can seem impossible. Thankfully, we here at Vaster Capital are here to help. Stay tuned as we talk about some of the biggest trends — micro-units, condotel units, and vacation rentals — and how you can take advantage of them with the proper financing solutions.
Trend #1: Micro-Units
Micro-units are the first South Florida commercial real estate trend that we need to talk about.
What Is a Micro-Unit?
Depending on the market, micro-units are essentially mini apartment units less than 400 square feet in size. In Miami, micro-units must be larger than 275 square feet in size. These spaces are smaller than your typical studio and are commonly found in larger metropolitan areas, such as Miami.
Often, these units don't come with a full-sized kitchen, and tenants make do with things like mini-fridges and hot plates. However, they must come with a kitchen and bathroom space that is unique to the unit and is not shared with other units.
Why Are Micro-Units Popular in South Florida?
Micro-units are popular in larger metropolitan areas as they offer a simpler and cheaper lifestyle. With rising rents and costs of living, it can be hard for single adults to afford a traditional one-bedroom apartment in big cities like Miami, New York, Los Angeles, San Francisco, etc.
According to Apartment List, the average rent for a traditional studio apartment in Miami is $1,881. On the other hand, the average rent for a traditional one-bedroom apartment in Miami is $2,350. These prices have increased by nearly 14% over the past year. Micro units are a great choice for renters who don't mind sacrificing space to save on monthly rent payments.
Pros and Cons of Micro-Units for Investors in South Florida
Here are some of the pros of micro-units for investors in South Florida:
Micro-units are in high demand for Millennials who are looking for a more minimalist lifestyle.

Micro-units are more affordable than other types of units, thereby increasing the size of your potential tenant pool.

Micro-units are easy to build and maintain since they are so small — allowing investors to maximize their return.
Here are some of the cons of micro-units for investors in South Florida:
Micro-units are a relatively new trend that hasn't been fully embraced by both real estate investment trusts (REITs) and lenders.

As a result, it may be difficult for you to locate micro-units to invest in, and once you do locate them, it may be difficult for you to secure financing.

Micro-units are likely to come with high turnover rates since it's easy to outgrow such a small space.
Example: Wynwood 25
Wynwood 25 is an apartment community located in Miami's trendy Wynwood neighborhood. An area popular with young people, this is the perfect location for micro-units. Specifically, Wynwood 25 offers studio spaces less than 500 square feet, with walk-in closets, in-unit laundry, and full-sized kitchens. These units rent for around $2,000 a month with amenities that include a heated pool, rooftop lounge, fitness center, movie lounge, and co-working spaces.
Trend #2: Condotel Units
The next South Florida commercial real estate trend we need to talk about is condotel units.
What Is a Condotel Unit?
Condo hotels, also known as "condotels," usually refer to high-rise buildings operated by hotel brands in major metropolitan areas. These units are sold to individuals as vacation homes and are then rented out when not in use. While this arrangement may sound like your typical condominium, they're anything but.
Instead of looking like a typical condo, these units look like a hotel suite that you'd find at popular hotel chains like Marriott, Hilton, Hyatt, etc. Condotels come with all the high-end amenities you'd find in a luxury hotel, including concierge, housekeeping, room service, spa services, and more.
Why Are Condotel Units Popular in South Florida?
Condotel units are popular in vacation destinations as they allow the owner to take advantage of the unit while they're in town and easily rent it out to earn extra hassle-free income while they're out of town. As South Florida is one of the country's hottest vacation destinations, it should come as no surprise that these units are so popular here.
Pros and Cons of Condotel Units for Investors in South Florida
Here are some of the pros of condotel units for investors in South Florida:
Condotel units offer an incredible amount of flexibility for investors that are looking to personally enjoy their investment from time to time while still getting a great return.

Condotel units offer top-notch amenities that simply cannot be beaten by other commercial avenues.

Condotel units are in high demand by tourists looking for a great place to stay in a top vacation destination.
Here are some of the cons of condotel units for investors in South Florida:
Condotels come with some ownership issues that need to be considered since you don't actually own any land and may be subject to numerous restrictions on how you can use your unit.

Condotels also come with high monthly maintenance costs to keep up with the luxurious amenities offered by the building.

Condotels come with complexities in terms of insurance and financing because there are multiple different parties with both full and partial ownership.
Example: YotelPad
YotelPad in Miami is a great example of a condotel. This development consists of 231 residential condominiums that are situated above the YOTEL Hotel. These condominium units share the amenities with the hotel, giving them a high-end and luxurious feel. The best part about YotelPad is that these units don't come with any rental restrictions — so investors are free to do as they wish with their units.
Trend #3: Vacation Rentals
The last South Florida commercial real estate trend we need to talk about is vacation rentals.
What Is a Vacation Rental?
The odds are that you haven't heard of a vacation rental property like this before. South Florida is now the new scene for condominiums that are actually serviced by platforms like Airbnb. These services allow owners to quickly and effortlessly rent out their units without lifting a finger. However, there are fees and guidelines to consider. You also have to consider expenses that you need to purchase or fix in your home before renting.
Why Are Vacation Rentals Popular in South Florida?
Vacation rentals are popular in South Florida because of their convenience and affordability. Many condotels offer a program where management takes care of unit management for a fee. With vacation rentals, people can have a primary residence or family home and a vacation home (sometimes a multi-unit property or duplex). Owning a vacation home is great for cash flow through rental income when the house isn't in use by the owner.
In these units, however, most of the work is performed by Airbnb rather than the owner. This arrangement is ideal for South Florida cities like Miami that boast 3,416 listings per 50,000 people — the highest of any city in the country.
Pros and Cons of Vacation Rentals for Investors in South Florida
Here are some of the pros of vacation rentals for investors in South Florida:
Vacation rentals allow owners to earn extra income on their units without having to worry about bookings, cancellations, cleanings, etc.

Vacation rentals allow owners the flexibility to use their unit as they wish and rent it out for extra income when needed.

Vacation and short-term rentals offer great rates of returns compared to long-term rental strategies.

In some cases, you can lease the property for longer periods of time (especially single-family homes or spaces in an apartment building).

Commercial properties are great for real estate investors if you want to eventually sell.
Here are some of the cons of vacation rentals for investors in South Florida:
Vacation rentals in South Florida are quite common, so it may be difficult to compete with larger accommodations.

Vacation rentals still do require some logistical work on the part of the owner to host the unit.

Vacation rentals can be hard to secure financing for in the form of an investment property loan or other loan options. There are monthly payments, and some people have to refinance their investment loans.
Example: District 225
District 255 offers fully appointed and beautifully furnished studio, one-bedroom, and two-bedroom condominium residences. Airbnb offers 24/7 support for hosting as well as a $1,000,000 property damage protection. All of the units come with smart home technology and smart access for an easy rental process. The building comes with a rooftop deck, rooftop pool, fitness center, spa, and on-demand housekeeping services.
Intelligence: Changes in Commercial Real Estate Financing
To keep up with these hot commercial real estate trends in South Florida, you may need some form of financing. This can include a conventional mortgage, an investment property mortgage, or a cash-out from a private lender.
However, this area is constantly changing and comes with a lot of complexities and intricacies that can be difficult to understand. So here's what you need to know about financing properties like micro-units, condotels, and vacation rentals in South Florida.
1. Conventional Loans
Conventional loans are available for warrantable condos. Warrantable condos meet the standards set by Fannie Mae and Freddie Mac. While conventional loans often come with some of the best interest rates, they also come with stricter qualifications. Furthermore, they cannot be used for unwarrantable properties like micro-units under 400 square feet and short-term rental condo projects. Types of conventional loans include:
Home equity loan

Short-term loan

Commercial real estate loans

VA loans (Veterans Affairs)

FHA loan

Flip loans

Mortgage loan
2. Portfolio Loans
Portfolio loans don't have to meet FHA requirements, so they offer more flexibility than conventional loans. That being said, they are still provided by big banks that typically have strict income and credit score requirements and may be hesitant to provide financing for projects such as micro-studios and serviced vacation rentals.
3. Non-QM Loans
Non-QM loans are designed to help those who may not meet traditional loan qualifications. Instead of qualifying based on employment and credit score, these loans allow you to qualify based on things like your bank statements or assets.
Despite an easier qualification process, non-QM loans still offer competitive interest rates that can range from 4.875% to 6.5%, depending on the strength of your application. These loans can be used to finance non-warrantable condotels and short-term rental buildings. Down payment terms and rates are continuously improving — making this a great option for people who are self-employed or foreign investors.
4. Bridge Loans
Bridge loans are designed to help provide temporary financing to borrowers that need quick and easy financing to close a deal. Speed is everything in South Florida's hot commercial real estate market — and it shouldn't be underestimated. Bridge loans are typically paid off within 12 to 18 months once the borrower is able to secure permanent financing. The average interest rate for a bridge loan can range anywhere from 6% to 12%, depending on your qualifications.
Bridge loans also come with fewer requirements in terms of credit scores and income verifications. Lenders are more willing to work with those with lower credit scores or limited employment histories to secure financing.
5. Hard Equity Loans
A hard equity loan provides quick and easy financing to borrowers looking to close a great commercial real estate deal. However, they are considered higher risk for lenders and often come with higher interest rates. Depending on your qualifications and the lender, you could end up paying between 10% and 15% in interest on a hard money loan. As a result, hard money loans should be paid back as soon as possible.
The Future of Commercial Real Estate in South Florida
While it's impossible to predict the future, there has been a lot of talk about an upcoming real estate "crash" due to high prices. In reality, a legitimate crash does not seem likely. Here's why:
Low Interest Rates: Interest rates on mortgages have hit an all-time low and continue to fall as 2021 begins to come to a close. The catalyst for this current trend can be attributed to the U.S. Federal Reserve lowering rates in response to COVID-19, but this could very well continue for the next few years.

Higher Lending Standards: Most of us do not look back at the 2008 recession fondly. But some of the side effects of that dark economic period have improved regulatory oversight, including lending standards for both residential and commercial real estate markets. Borrowers are under more scrutiny, and lenders are beholden to new standards, or rules, set by the Consumer Financial Protection Bureau. There are the CFPB's Rules on mortgage servicing, Rules governing loan origination practices, and of course, the Dodd-Frank Act, which requires the CFPB to collect data about small businesses to facilitate the enforcement of fair lending laws in the U.S.

Commercial lending in Florida, like elsewhere in the country, has been affected by COVID-19, with lenders less focused on new loans and more focused on assisting current loan holders. Interest rates should remain low at least through the end of 2021, but that doesn't mean getting an SBA loan will be "easy" to get approval for.

Increased Investment: At face value, it seems like foreign and domestic investors have flocked to South Florida to take advantage of the robust housing market that has seen increased demand and pricing. In areas like Fort Lauderdale, and Riviera Beach, investors like Amazon and MMG Equity Partners are snatching up retail and office properties.

Meanwhile, Bay Area tech companies continue to look to Miami for future possibilities. Miami is well on its way to becoming a global tech hub with companies like Microsoft, Founders Fund, and Blumberg Capital opening offices in the city in the last two years. Major financial companies that are poised to lead fintech investment both domestically and globally are also making Miami their home. Citadel Securities is reportedly on the hunt for 80K square feet of office space in the city, and MSD Partners, the private investment firm behind Dell Technologies founder Michael Dell, has an office building under construction near Brickell Avenue in Downtown Miami's Financial District that is set to open in 2022. It also helps that Miami boasts one of the best work-life balances for office culture.

Additionally, South Florida has a healthier business tax climate compared to metropolitan and suburban markets in New York and California. Needless to say, this has contributed hugely to the business exodus to South Florida. Forbes ranked Miami the No. 2 emerging tech city in the U.S. for 2021.
For these reasons, the best time to get into commercial real estate in South Florida is now while interest rates are still low and before prices continue to rise even further.
For more information on commercial real estate in South Florida, including lending options, check out Vaster Capital. Vaster Capital offers a whole host of real estate resources to help you properly invest in the hot South Florida real estate market. Vaster Capital also offers a variety of different loan services to help make your real estate dreams a reality.
Sources:
What Are Micro Apartments? | Million Acres
Understanding Condotels | Investopedia
What Is a Non-Qualified Mortgage? | Fool.com
Rules on mortgage servicing | CFPB
Rules governing loan origination practices | CFPB